Emotional, beautiful and inspiring; selective colour photography is a magical technique that adds a wonderful creativity and uniqueness to your shots. It's a post-production process that you achieve by converting the majority of a colour photograph to black and white, while leaving some parts in colour. You can also use layers and marks in your usual photo editing software. Photoshop, SilverFast, Adobe Fireworks and GIMP are the most popular programmes. The main reason to use it is to add emphasis to a particular element of your photograph; it introduces interest to features in portraits or highlights details in a landscape shot. A common technique is to convert a portrait to black and white while leaving the eyes or lips in color. Another is to convert a countryside shot while leaving a few flowers in their original colour. It immediately draws the viewer's eye and creates incredible atmosphere. Selective colour techniques have also been used in the cinema, with films like Schindler's List and Sin City both employing the style to very different but equally impressive results. Here's a collection of 30 stunning examples of selective colour photography to help inspire you and get you started.

Here's an example of the classic portrait technique of full black and white with colour remaining in the eyes – which are the primary focal point in the shot.
A slightly more complicated approach which keeps the player in colour while converting the rest of the shot to black and white.
Selective colour techniques are a brilliant way to add atmosphere to a scene, as can be seen in this photograph of an old-fashioned phone box.
Sometimes it takes a black and white background to really allow your colours to shine, like this dazzling yellow fallen leaf.
These Crayola crayons appear even more vibrant by placing them side by side against the contrasting black and white background.
These hat ribbons are so striking, particularly when picked out with the complementing colours found in the Union Jack flag.
Selective colour photography is undeniably romantic, and what could be more enigmatic than a beautiful red dress against a West Side Story-esque urban backdrop.
Another romantic red and monochrome rendition, this time featuring a classic Citroen 2CV and that icon of love and passion, the Eiffel Tower.
Old art meets new with a fresh, textured yellow graffiti heart juxtaposed against a traditional lion sculpture.
This photographer has chosen a rainbow of colours to highlight in this classic colour selective composition.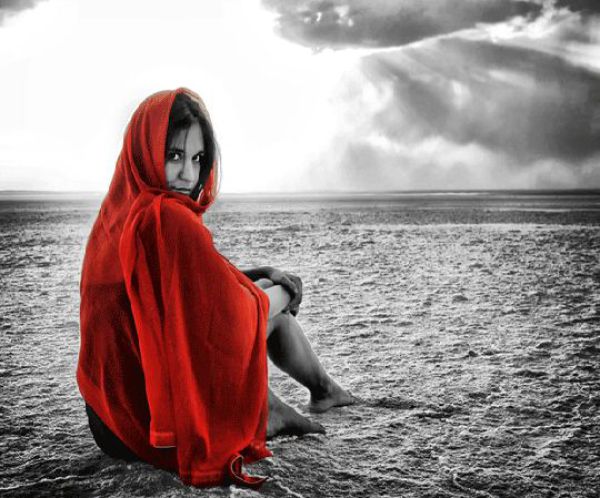 The dramatic and intense is made even more inspirational in this example.
There is such beauty in the urban environment when you look at the detail, as the photographer has done here.
It's not just portraits of humans that can benefit from the colour selective technique. The cat's blue eyes are intense and unforgettable when the rest of the shot is in black and white.
This photographer has chosen to bring out the rich golden tones of the tree and the gentle green of the grassy bank below.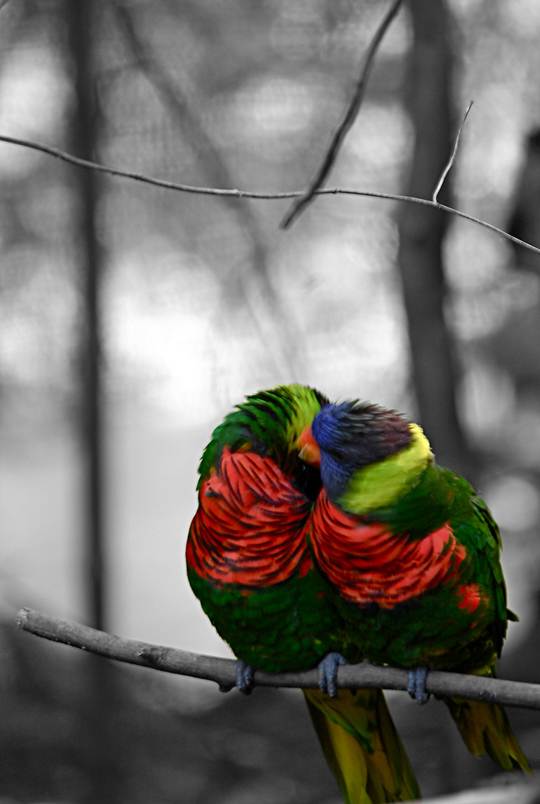 Some of the most vibrant colours on the planet are to be found in wildlife, as this colour-pop photograph clearly shows.
Manchester City Centre in the snow looks beautiful and the street map seems unfeasibly colourful when compared to the chilly monochrome background.
The photographer of this portrait has chosen to leave colour in both the eyes and the model's t-shirt.
So cute! Rather than highlight the eyes, it's all about the stars and stripes sunglasses in this shot.
Leaving white intact is a brave and usual choice that can sometimes prove incredibly effective.
Another unusual example that leaves the colours of the building intact in their entirety.
Selective colour photography is all about highlighting the minor details, just like this fragile daisy in the midst of an unforgiving urban setting.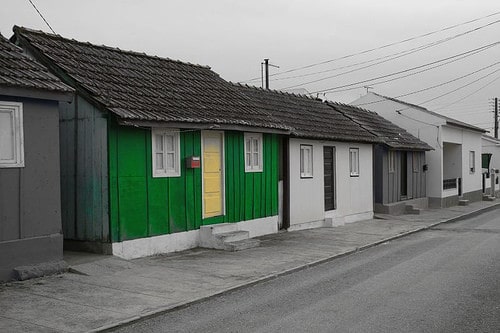 The gorgeous, fresh green of this building pops out of the shot thanks to colour selective techniques.
These azure, jewel-like leaves look gorgeous – it's hard to believe that colours this intense exist outside the paint box.
Comments
comments