Photography contests
Are you a photography nut? The internet has opened up a whole new damage for both amateur and professional camera enthusiasts alike, and websites are all over that cater to this skill. But lately there have also been more contests available so you can get your work seen by a wider audience, and even earn a little bit of money doing it.
Travelers have more targeted contests that are a little different than the usual fare. They have an emphasis on showing the world through your lens, giving people an intimate view of your experience. Photos taken while on a trip have a certain feel, something that most photographs lack. You are not just showing an image, you are conveying an experience.
While you can find a ton of these on social media sites like Facebook, there are a few that have larger rewards and a chance to launch an entire career based on your participation. Big names are asking for photo submissions for this year's contests, and these are four of the best announce, so far.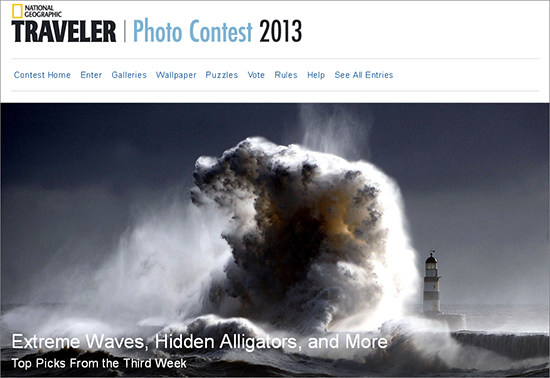 If you love to travel, you probably have a whole slew of incredible photos that have come by as a result. Whether you have a shot of a gorgeous landscape or people you have met along the way, National Geographic wants to see it. You could win an expedition, fully paid, to the Galapagos Islands, and have your photo published with full credit in the famous magazine. The entry fee is only $15, and they allow travel portraits, outdoor scenes, sense of place or spontaneous moments. First prize is the ten day expedition for two, second is a seven day photography workshop, third is a six day cruise for two on a Maine windhammer schooner, and seven will with a $200 gift certificant to B&H Photo, along with a matted and framed print of the entry photo.
You have until October 1 to send in your photograph for the Travel Photographer of the Year contest. Every contest the winners receive international attention for their winning snapshot, and see real success for themselves and their work as a consequence. In addition, there are some great prizes this year, such as paid trips around the world and some high-quality photography gear that is top of the line. Your work will also be featured in a gallery exhibit, making it into a real show for your efforts. Be sure to check out the winner's gallery to see what has made it in the past, and keep up on new details in their blog.
Wanderlust just finished a photography contest in April, and the winners were amazing. But they regularly offer competitions for travelers, and so it is worth following their website for information on upcoming events. Prizes are usually commissions for specific places around the world, with expenses paid to get you there on top of the reward cash. They also have competitions for tour guides.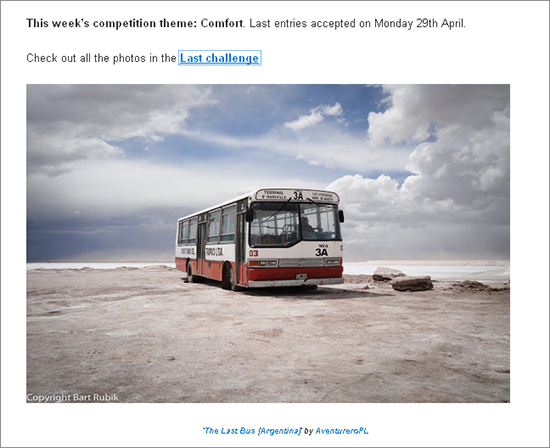 Lonely Planet is one of the most popular travel websites on the net. They also have a weekly competition for photographers on Flickr, where they put up challenges and allow users to vote on the best entries for that seven day stretch. The prize is small, a guidebook of their choice from the website. But the exposure is impressive, and with it being a weekly event you have more chances to win than with other competitions.
Do you know of a contest for travel photographers that you think is worth making this list? Let us know in the comments, and be sure to provide a link!

Comments
comments